Frequently Asked Questions
HOW TO PURCHASE ORIGINALS
 After selecting a painting, please contact me by email at jerim@jerimfineart.com to discuss price, payment methods and shipping. Payment is made through PayPal or by personal check. PayPal is one of the most secure and trusted online payment solutions on the internet. PayPal takes most any form of credit card payment and is my preference for payment. Once the funds clear, shipment of your art will be the next business day. Note: Personal checks will delay the order for 3-5 business days.
PRICES/ORIGINALS
PRICES/ORIGINALS
My work is charged by the linear inch. I do not publish my prices on the internet as there are always going to be some paintings that take more time to paint than others. To keep it simple, I price each painting by the linear inch method first and then adjust for variables, such as adding a frame or by the complexity of the work for an example. Most people prefer to frame the art themselves, so my prices are first based on unframed works.
PAYMENT PLANS
Multiple payments: 3 equal payments are acceptable within a 3 month period. I will hold the painting until final payment clears. Late payments of more than 7 days after due date, all previous money paid in will not be refunded and the art goes back into inventory.
HOW TO PURCHASE PRINTS OF ORIGINALS
The "SHOP PRINTS" area of my online store, allows you to purchase prints, prints with the frames and matting, prints on canvas and much more. When you purchase directly from this site, you will receive a discount code anywhere from $15 to $25 off your purchase, via my newsletter once you subscribe.
If you go directly to Fine Art America for purchase, you will not receive discount codes. So please! Shop first through my site "SHOP PRINTS", to get the best price! Fine Art America is the highest standard for online print purchases. Art collectors consider them to be number one in print on demand for quality and customer service.
HOW I PHOTOGRAPH THE PAINTINGS ON MY SITE
o photograph my paintings, I use a Sony digital camera first and then Photoshop to crop, edit and render the photo as close as possible to my original painting. As a professional graphic designer for over 22 years, I am an expert in photoshop and photographic editing.
SHIPPING ORIGINALS
Small, unframed paintings are shipped in Flat Rate USPS Priority Mail boxes. Each painting is insured for the purchase price. USPS generally takes 2-3 days (domestic).
Larger paintings must be weighed after packaging to estimate shipping costs. Shipping costs vary both domestic and international, depending on the size, weight and destination.
Once you have selected a painting to purchase, please email me your address to determine the costs. Orders are packaged with the utmost care so damage is very rare. But if it should happen, you must contact me within 3 days of the order. Damaged items will be handled on a case by case basis. International orders will take at least 2-10 weeks after shipping.
COPYRIGHTS
© 2019 Design and all images shown on this site copyright of Jeri McDonald Design and Fine Art. The original art for sale is displayed according to what the art could look like in a real life setting-example, a living room. The images are only examples of how artwork can be resized to fit the wall space and are not to scale. The photography is as accurate as possible to the original paintings.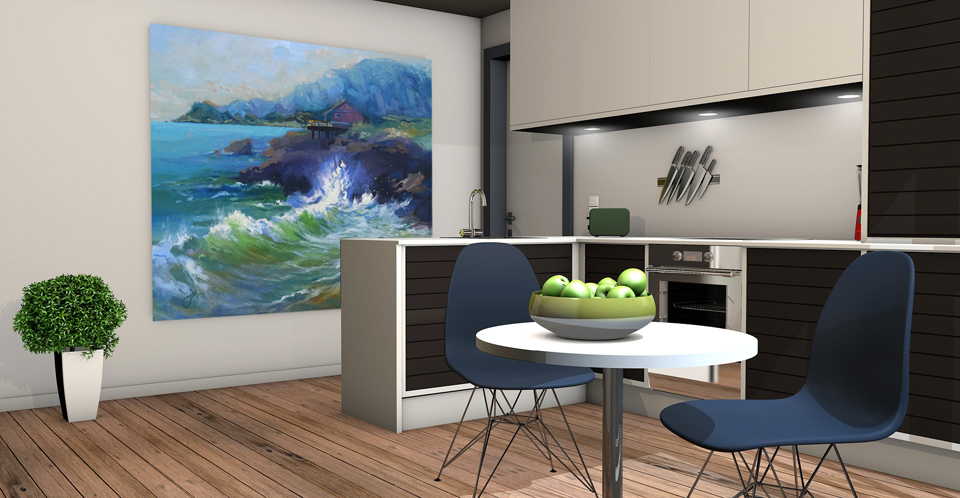 See What's Possible
See your painting inserted into your living space like this kitchen featuring "Wave of the Day" oil painting. Printed on large canvas.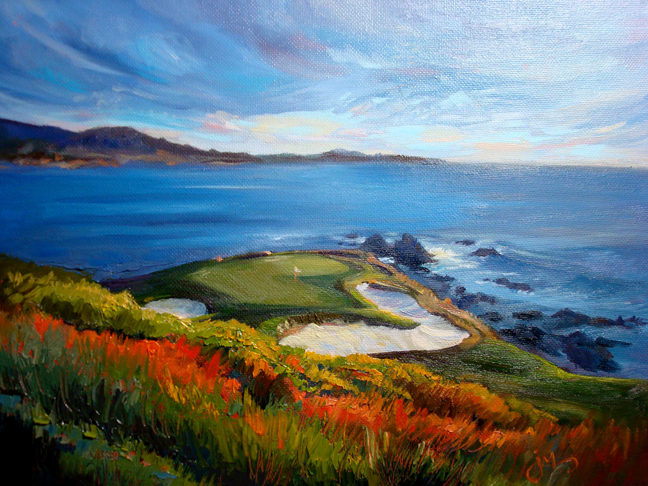 Commission
Commission a custom painting in oils, watercolor or pastel. Cabins, houses, landscapes of places you've visited like Pebble Beach, or even a family pet.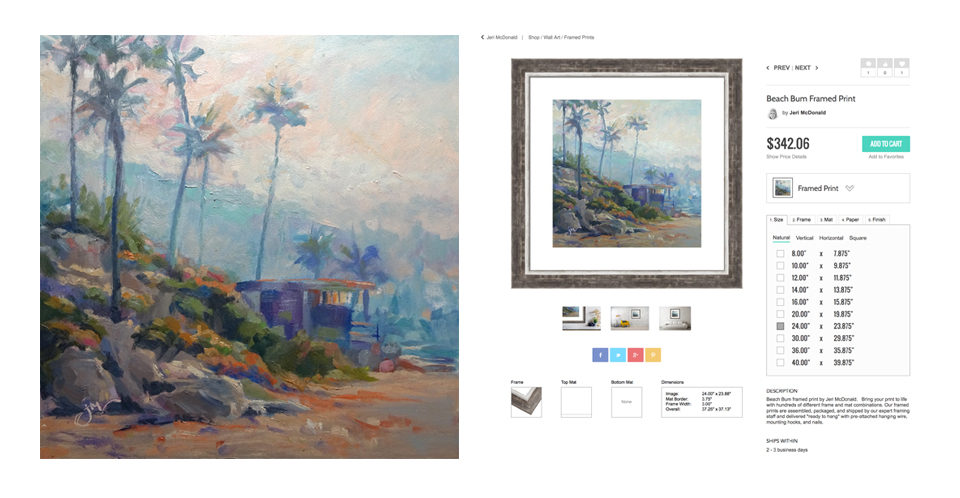 Frame and Print Options
See how many framing options are available. Shop Prints will get your there.