Painting Amazing Yosemite-Elizabeth Lake Stream
This original oil painting of the beautiful Elizabeth Lake trail, is the first in my Yosemite series. After taking dozens of photographs, I decided the lake area was my new subject. Elizabeth Lake trail head in Yosemite, departs from the Tuolumne Meadows campground, near the eastern edge of the meadows. The lake is named after a geologist's niece, Elizabeth Crow Simmons, because of it's great beauty.
I've posted the different stages I go through to create an oil painting. There a many ways to render a painting, but I'm told its not what you put on, but what you leave on a painting once you've finished.
Stage One-sketching in my scene. I use pastel pencil as it will not interfere with my paint by showing lines or mixing in with the paint to change the color. The sketch is on cotton canvas that I can later glue to board to give it stability and then frame it.
Secondly, I do what is called "blocking in" with thin layers of paint. Most of the time I like to use turpentine on this layer as it dries quicker than mineral spirits so I can continue working the next layers within 15-20 minutes.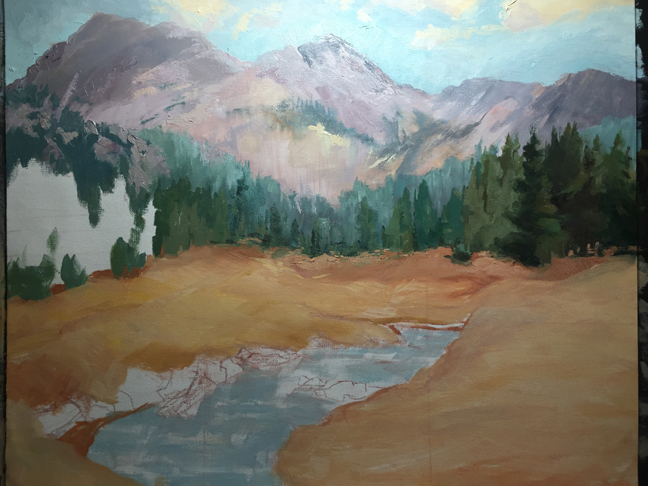 Now to add the final layers of thicker paint. Oil paint will crack if the layers are too thick from the beginning, so I try to layer them from thin to thicker to avoid this problem. It is called "fat over lean" in the painting profession. This is the almost finished piece. I will let it dry before adding my finishing touches or making any last minute adjustments in color.
To see the final painting, just click on the image at the top of the page. If you have any questions about my paintings or methods, please, do not hesitate to call or email me. I'd love to hear from you.